Description
Electronic Rodent Zapper-
Zaps Mice, Rats, Squirrels, Ground Squirrels, Chipmunks and other similar rodents
---
This Rodent Zapper has many advantages over other models. It's high power and large throat opening allows control of not only mice and rats but other rodents as well. Also, the combination of battery use or plug in make it incredibly versatile for any condition. Another great feature is the removable electronic cover allows easy cleaning of the bait and shock area. It's the bomb! ~ Thomas Wittman
---
I'd been seeing signs of mice in my RV/van for weeks, and it was stressing me out! I was researching different types of traps and dreading the idea of taking action. My friend lent me her rodent zapper, which I didn't even know existed. I brought it home, put a blob of peanut butter inside and put it on the running board of my van, next to where I suspected the mice were getting in. when I checked it an hour later, the light was green and the dead mouse was inside. I picked up the zapper, and easily disposed of the mouse without having any contact with it at all. It was sooo easy.

I'm going to buy my own and use this method to keep my RV/van rodent free. I'm soooo relieved! ~ Joy
---
EASY TO USE 
Slide open and lift to remove upper half of the trap

Apply a small amount of bait in the square bait station, such as peanut butter, etc


Plug in the device with the provided adapter or insert batteries

Place the Rodent Zapper at the desired location and power it on
It will emit a 7000V shock when a rodent enters into the trap, instantly killing the rodent.
ADVANCED SMART DETECTION TECHNOLOGY 
The Electronic Rodent Zapper is equipped with advanced rodent detection technology, which ensures that rodents get instantly killed.

Works for Mice, Rats, Squirrels, Ground Squirrels, Chipmunks and other similar rodents.
HUMANE 
Kills the rodents as quickly and humanely as possible.

It works by emitting a 7000V electric shock, which instantly kills the rodent, with virtually no pain to the rodent.
PLUG-IN or BATTERY OPERATED
Comes with a 5 Ft. plug-in adapter or can also be operated with 4 'D' batteries (batteries not included)

Features also an extension plugin indicator light for hard-to-reach areas, that enables to check for trapped rodents without the need to check the actual device.

When the device is placed on some high places, such as the ceilings or high wall corners, the extension cord with a LED light can be used. The LED light will flash quickly as a signal when the trap has been successful.
SAFE & CLEAN
The two part design allows the trap to be cleaned safely and easily. When the upper and lower part are separated, the circuit will OFF automatically.

Get rodent free without the use of dangerous poisons and chemicals. Discarding the rodent is a breeze with absolutely no mess. To discard the exterminated rodent, simply pick up the device, slide the dead rodent into the trash bin and place the trap back to its location ready for the next catch.
DIMENSIONS – 11" x 4.5" x 5"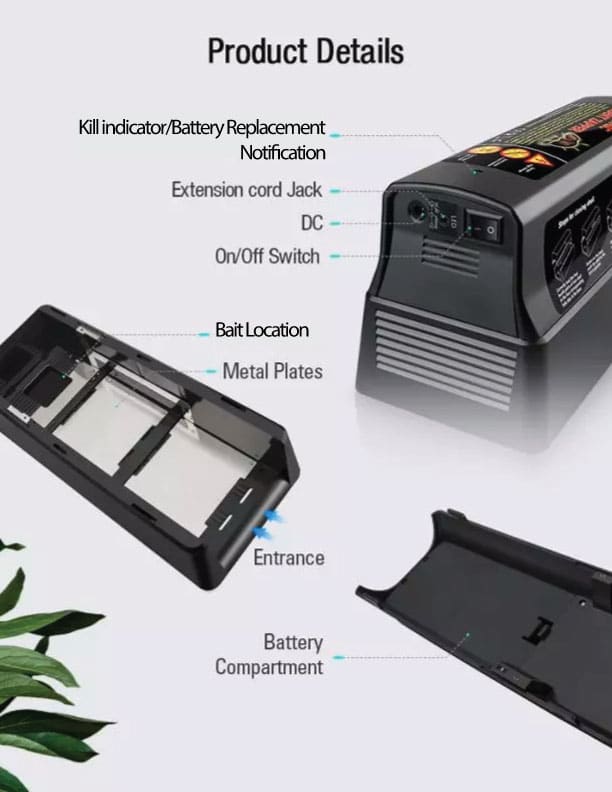 Additional information
| | |
| --- | --- |
| Weight | 5 lbs |
| Dimensions | 12 × 6 × 6 in |