Stainless Steel Gopher Basket Garden Bed ~ Plant A Protected Garden ~ Can Ship
Description
Stainless Steel Gopher Basket Garden Bed
**Patent Pending**
We have recreated our Garden Bed! The same product in 5 easy to assemble panels. Assemble the panels with zip ties or hog rings and plant in the ground
Dimensions: 4ft Long x 2ft Wide x 18in Deep
With our Stainless Steel Gopher Basket Garden Bed you can plant your garden in one sturdy preformed 'safe space'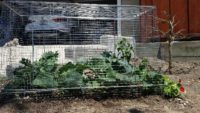 Our strong welded square wire cages will protect the main roots of your plant while also allowing room for tendril roots to reach through the basket as needed for the health and growth of your plant.
Gophers move above ground at night. So to achieve the maximum protection for your plant, leave a 3-4 inch rim of the basket above ground to protect from gophers invading from the surface. In our experience, this will create a tall enough barrier to keep them out. They are tenacious creatures but not very good climbers.
Buy 2 Stainless Steel Gopher Basket Garden Beds and use a second one, hinged on top:
to keep out birds, bunnies and other animal pests

Cover with clear plastic to create a greenhouse

Cover with reemay cloth for frost and insect control
Our Stainless Steel Gopher Basket Garden Beds will last forever for a permanent solution or move them each season
---
We offer a local pickup option at checkout. If you choose local pickup we will contact you to schedule a pickup time and day at our location:
303 Potrero St., Ste. 39 Santa Cruz, CA 95060
Our most ideal pickup times are between 9-11am or 4-5pm weekdays, with the exception of holidays. Some weekend pickups are available upon request.
Additional information
| | |
| --- | --- |
| Weight | 17 lbs |
| Dimensions | 48 x 22 x 2 in |