Description
You save 10% by purchasing a kit!
We created our Cinch Gopher Mole Trap Starter Kit to include everything you need to become a savvy successful trapper the Cinch way.
The Cinch Gopher Mole Trap Starter Kit Includes:
Cinch Traps (2)

Hori Hori Knife (1) Japanese Gardening Tool and great companion tool to the Cinch Trap

DVD "Easy Gopher an Mole Control Without Poisons" (1)

Quick Start Guide (1)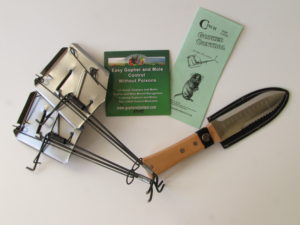 "I have spent $thousands over the years trying, mostly unsuccessfully, to control or eradicate gophers in my yard. My property backs up to a commercial vineyard and though beautiful, it also produces a steady supply of gophers bent on destroying my garden and landscaping. Last month I bought 3 of your traps. After watching the instructional video (absolutely critical) I deployed my first trap in my garden. Next morning, there were signs of activity all around the trap, but it wasn't sprung. I reorganized, set it out again, in a new hole a went for my morning walk. By the time I returned I had my first. He must have been operating alone because I have had no other issues in the back. Yesterday, I noticed activity in the front near the sidewalk. I was a bit fearful that someone's pet or kid might spring it accidentally hurting themselves. I deployed a trap, covered it with chicken wire and made a caution sign. Two hours later was rewarded with a second kill. Without question, the best investment ever in my desire to control these varmints. Great product. I sing your praises loud and often." Mark C Cook
"Dear Gopher Guru…I ordered your kit and received it about one month ago, you may remember I wrote asking for help because I wasn't having any success with the trap. Well, the dead gopher count is up to 10 today and my gardens are finally safe from mayhem. I am a Master Gardener in Mariposa, CA and next week I have been asked to give a presentation to the group on the cinch trap. Thanks again for your product and stay tuned for more orders after I give my presentation!" Jo Nunes
"Video is great, easy to follow, learned a lot about gopher activity and habits. I caught a gopher on my first try. Just ordered 8 more traps, also recommending your website to friends. Best regards, Richard Fahey"
---
---
We offer a local pickup option at checkout. If you choose local pickup we will contact you to schedule a pickup time and day at our location:
303 Potrero St., Ste. 39 Santa Cruz, CA 95060
Our most ideal pickup times are between 9-11am or 4-5pm weekdays, with the exception of holidays. Some weekend pickups are available upon request.
Additional information
| | |
| --- | --- |
| Weight | 4 lbs |
| Dimensions | 11.75 x 5.75 x 5.75 in |