Stainless Steel Gopher Basket 1 Gallon Size ~ Case 12
Description
Stainless Steel Gopher Basket 1 Gallon Size ~ Case 12  
**Patent Pending**
Also available in cases of 6

Buy Now

Taking the extra step to plant in our baskets is easy and most of all worthwhile. Making sure your plants are safe from gopher or mole damage will ensure their life and your peace of mind.
Our strong welded square wire cages will protect the main roots of your plant while also allowing room for tendril roots to reach through the basket as needed for the health and growth of your plant.
Gophers move above ground at night. So to achieve the maximum protection for your plant, leave a 3-4 inch rim of the basket above ground to protect from gophers invading from the surface. In our experience, this will create a tall enough barrier to keep them out. They are tenacious creatures but not very good climbers.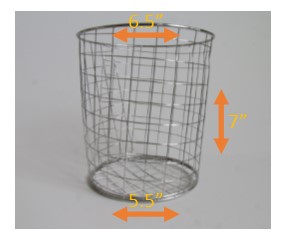 Our baskets are:
Preformed and ready to use with no assembly or shaping required
Made with reinforced rims and bottoms for easy lifting and planting
3/4 inch square mesh provides 30% less opening than other hexagonal shaped
Made from 18 gauge stainless steel for lifetime durability
Made in the same sizes as standard pots for seamless transfer
Offered in 3 sizes 1, 5, and 15 gallon
1 gallon size for bulbs and small annuals
5 gallon size for all medium size plants and shrubs
15 gallon size for trees and large shrubs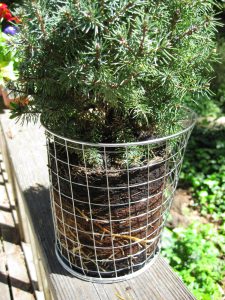 ---
We offer a local pickup option at checkout. If you choose local pickup we will contact you to schedule a pickup time and day at our location:
303 Potrero St., Ste. 39 Santa Cruz, CA 95060
Our most ideal pickup times are between 9-11am or 4-5pm weekdays, with the exception of holidays. Some weekend pickups are available upon request.
Additional information
| | |
| --- | --- |
| Weight | 4 lbs |
| Dimensions | 16 x 14 x 8 in |