Stainless Steel Gopher Basket 5 Gallon ~ Case 12
Description
5 Gallon Gopher Basket ~ Stainless Steel
Case of 12 ~ 5 gallon gopher basket ~ stainless steel
Basket size:
10 inch diameter at the top
9.5 inch diameter at the bottom
12 inches tall
**Patent Pending**
Also available in cases of 6
Stainless steel 5 gallon gopher basket product information:
This everlasting basket will protect most small perennial shrubs and is great for annuals such as tomatoes and other larger garden and flower plants including roses. Very nice looking in the garden and landscape.
Our strong welded square wire cages will protect the main roots of your plant while also allowing room for tendril roots to reach through the basket as needed for the health and growth of your plant.
Gophers move above ground at night. So to achieve the maximum protection for your plant, leave a 3-4 inch rim of the basket above ground to protect from gophers invading from the surface. In our experience, this will create a tall enough barrier to keep them out. They are tenacious creatures but not very good climbers.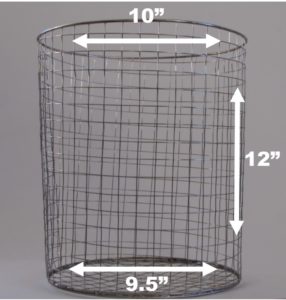 All Gophers Limited Inc gopher baskets are:
Preformed and ready to use with no assembly required

Made with reinforced rims and bottoms for easy lifting and planting

3/4 inch square mesh leaves 30% less opening than hexagonal mesh

Made from 18 gauge stainless steel for lifetime durability

The same sizes as standard pots for seamless transfer
Offered in 4 sizes 1, 5, 15 and 25 gallon
1 gallon size for bulbs and small annuals

5 gallon size for all medium size plants and shrubs

15 gallon size for trees and large shrubs

25 gallon size for large trees
Additional information
| | |
| --- | --- |
| Weight | 16 lbs |
| Dimensions | 11 × 11 × 48 in |